Early History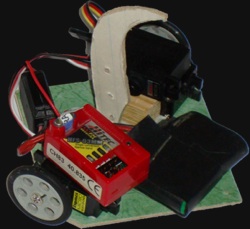 Back in 2003, I decided that I wanted to build a robot of my own. Having seen the Antweights compete in both Robot Wars Extreme 1 and 2, they seemed like a good option for a beginner. I did some research and came across Robotwars101.org (or RW101.com as it was at the time). Their Ant Shop offered a beginners kit for £165, which I received as a Christmas present later that year. Bobblebot was built throughout 2004, however the crusher was not added until later.
Bobblebot Vital Statistics
Weight - around 150g
Length - 140mm
Width - 140mm
Height - 120mm
Speed - Difficult to say, but around 2-3cm per second
Drive - Two modified 360 degree SD200 servos
Weapon - A crusher powered by HS-55 servo, again modified for 360 degree rotation.
Image Gallery
Here are pictures of Bobblebot from 2003, if you want a larger, more detailed picture click on the thumbnails below to view a bigger version. The picture above shows Bobblebot in its completed state, while these were taken during its construction, before the weapon was added.
| | |
| --- | --- |
| | Here you can see the big red receiver and servos very clearly. |
| | As above, only from the other side. |
| | Front head-on view, showing receiver, switch, servos, batteries and the rubber glove tyres. |