Craig Charles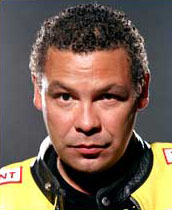 Craig is an accomplished poet. In fact, his career begun in 1976 when he won the Guardian's Poetry Award at the age of 12. From then on, Craig's career went from strength to strength, from warming up for bands in his home town Liverpool to hosting his own live comedy tours of the UK. He has also written quite a few storys.
Craig is probably best known for his role as the slob Dave Lister on BBC2's Red Dwarf, which ran for eight series and became a hit worldwide. Craig's other roles include parts in The Bill, Holby City, Lynda la Plante's The Governor, Doctors and EastEnders.
Craig moved into presenting in 1991 with the consumer affairs show Them And Us, before guest stints fronting The Big Breakfast and Wogan. Since then, Craig has hosted programs such as Jail break, Ripley's Believe It Or Not, Takeshi's Castle and Robot Wars.
Jayne Middlemiss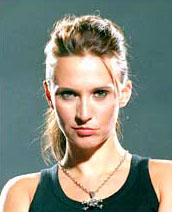 Jayne started by fronting a wide range of music programmes, including The O Zone, Top Of The Pops, the Smash Hits Awards and the TOTP show on BBC Radio One. After hosting coverage of Glastonbury and the Edinburgh Festival, Jayne went on to present two both Rough Cut and Dog s Balearics. She currently hosts The Music Week on BBC 6 Music.
In 1999, Jayne began to move into more mainstream programming with three series of the hugely successful fashion show "She's Gotta Have It". She went on to present some of the BBC's Holiday programmes, which sent her to destinations across the globe, before co-hosting the LA Pool Party series, which won an Award.
In the spring of 2004, Jayne moved to Five where she presented the dating show What Women Want, before moving into the much sought-after role of co-presenter on the seventh series of Robot Wars, replacing Phillipa Forrester.
Jonathan Pearce
As a teenager, Jonathan trained with Bristol City, but sadly broke a leg in 1974. So, he decided to move from the pitch to the press box, becoming a football reporter and finding work with BBC Radio Bristol.
From there, he became Sports Editor at many radio stations including Radio West, Southern Sound and Capital. He currently has a role as sports commentator and presenter of shows 606 and Sport On Five for BBC Radio 5 Live.
Jonathan is no stranger to TV work. After starting out with Sky, he moved to hosting shows for both LWT and Granada before landing his very own show, Jonathan Pearce's Football Night on Five. It started at the birth of the channel in 1997 and is still going strong today. He's also a commentator on Five's live football games and, of course, Robot Wars. He is the voice behind the action.