Series 1: Roadblock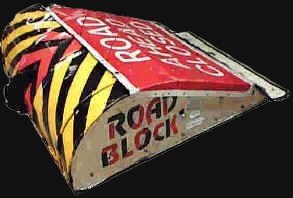 | | |
| --- | --- |
| Team: | Hender Blewett, Chris Kinsey, Peter Kinsey |
| Weight: | 80.9kg |
| Height: | 45cm |
| Length: | 160cm |
| Width: | 110cm |
| Speed: | 8mph |
| Weaponry: | Rear mounted circular saw, wedge. |
Roadblock was a basic wedge shaped robot, made out of traffic signs (hence the name Roadblock). It had circular saw on the back, but the main weapon was its ability to get underneath other robots and push them around. Roadblock was also very large, measuring almost a metre wide and 1.2 metres long. This size made the gauntlet round, which generally relies on manoeuvrability and speed, quite challenging. Roadblock returned to defend its title in the Second Wars, and made it to third place, after losing out to Cassius in the grand final. In Series 3, the team returned with Beast of Bodmin which was similar to Roadblock but also incorporated a small lifter into the wedge.
Series 2: Panic Attack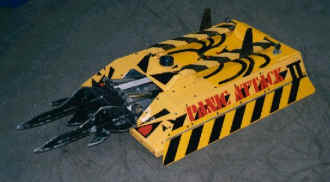 | | |
| --- | --- |
| Team: | Kim Davies, Kevin Pritchard, Jamie McGarry |
| Weight: | 96kg |
| Height: | 25cm |
| Length: | 110cm |
| Width: | 90cm> |
| Speed: | 8mph |
| Weapons: | Electric actuator lifting forks |
Panic Attack was a small, manoeuvrable, rectangular box shaped robot with lifting forks at the front. Its success in the Second Wars came as something a surprise to many people, as compared to many of its competitors it was a very simple machine. Panic Attack beat the more advanced Cassius in a shock grand final battle to claim the title. Panic Attack used the money they won to improve the robot for the Third Wars, where they reached the second round of the semi-final. The team continued to compete right up to Series 7. Panic Attack was one of the best controlled robots ever to appear on Robot Wars, thanks to the impressive driving skills of team captain Kim Davies.
Series 3 and 4: Chaos 2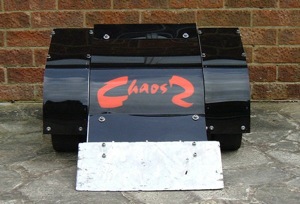 | | |
| --- | --- |
| Team: | George Francis, Ian Swann, Richard Swann |
| Weight: | 85kg |
| Height: | 40cm |
| Length: | 90cm |
| Width: | 74cm |
| Speed: | 20mph |
| Weapons: | High Power CO2 Flipper |
Chaos 2 was again, a wedge shaped robot. It was virtually the opposite of Series 1 champion Roadblock, in that it was small, very fast and very manoeuvrable. When it debuted in Series 3, it had the most powerful flipper ever seen in Robot Wars. Team captain George Francis had learned many lessons from his previous two entries, Robot the Bruce and Chaos, and applied that knowledge when designing Chaos 2. This paid off as Chaos 2 went on to win not only the Third Wars but made Robot Wars history when it won the Fourth Wars as well. At the original 80kg weight limit, Chaos 2 was nearly unstoppable, but faltered in later series when heavier (100kg) and more reliable robots made it more difficult for it to dominate a fight. Due to the design of Chaos 2 George Francis was unable to make many changes for fear of upsetting the centre of gravity and handling, and as a result the robot weighed just 84kg throughout Series 5 and 6, and was fighting robots almost 20kg heavier.
Series 5: Razer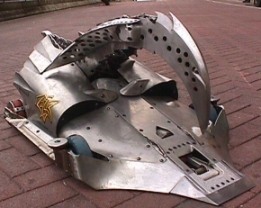 | | |
| --- | --- |
| Team: | Ian Lewis, Simon Scott |
| Weight: | 96kg |
| Height: | 39cm |
| Length: | 106cm |
| Width: | 88cm |
| Speed: | 11mph |
| Weapons: | Hydraulic crusher with 3 tonnes at tip |
Razer, statistically the most successful machine in Robot Wars history, had been waiting since the Second Wars to claim the title. A series of unfortunate mechanical breakdowns meant that Razer largely under achieved in its early years, although it won many titles outside of the main series of Robot Wars including the World and International Championships. Razer's main weapon was a hydraulic crushing arm with 3 tonnes of force at its tip. That, combined with its speed, maneuverability and extremely low ground clearance made Razer a very difficult machine to stop. In 2001, Razer won Series 5 and as a result could claim to be the World, International and UK champion at the same time. Razer returned for Series 6, where it came second to Tornado after narrowly losing a controversial grand final.
Series 6: Tornado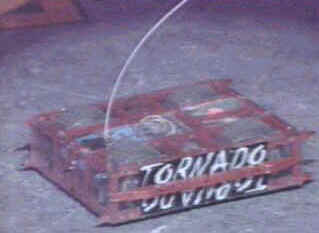 | | |
| --- | --- |
| Team: | Andrew Marchant, David Gamble, Brian Moss |
| Weight: | 100kg |
| Height: | 25cm |
| Length: | 86cm |
| Width: | 70cm |
| Speed: | 10mph |
| Weapons: | Vertically mounted spinning drum |
Tornado was a four wheel drive pusher, and was originally armed with a pneumatic ramming spike which was later replaced by a small spinning disk. In the Sixth Series of Robot Wars, Tornado introduced a range of interchangeable weaponry, each one designed to match a certain type of opponent. This caused a great deal of controversy in the grand final against Razer, where Tornado was fitted with a spinning bar, supported by a frame surrounding the robot which also prevented Razer from crushing the main body of Tornado. This innovative thinking helped make Tornado into a serious competitor; it was also the first robot to use 36v for increased power so it could push opponents round more easily. In Series 7, Tornado came third after losing to Storm 2 in the first round of the semi final. Ironically, the inspiration for the design of Storm 2 was Tornado!
Series 7: Typhoon 2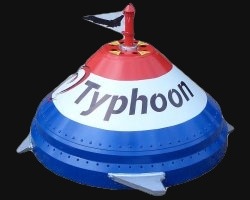 | | |
| --- | --- |
| Team: | Peter Bennett, Gary Cairns,Keri Scott |
| Weight: | 100kg |
| Height: | 60cm |
| Length: | 82cm |
| Width: | 82cm |
| Speed: | 10mph |
| Weapons: | Full body spinner |
Typhoon 2 was a very powerful, petrol driven full body spinner (FBS) built by a team from the Royal Air Force (RAF). While it was their first time in the heavyweight competition, the team had previously competed in the Middleweight class with Typhoon with great success. Typhoon 2 was the first (and only) successful full body spinner to enter Robot Wars, largely due to its much higher reliability levels than other FBS entrants. In the grand final of Series 7 it twice completely destroyed a section of the arena wall, causing the fight to be stopped while repairs were carried out. It eventually beat Storm 2 in a controversial judges decision to become the last ever robot to win Robot Wars.